Newsletter #9: Official Readwise Integration, Combining Zotero and Logseq, and Better Graph Visualizations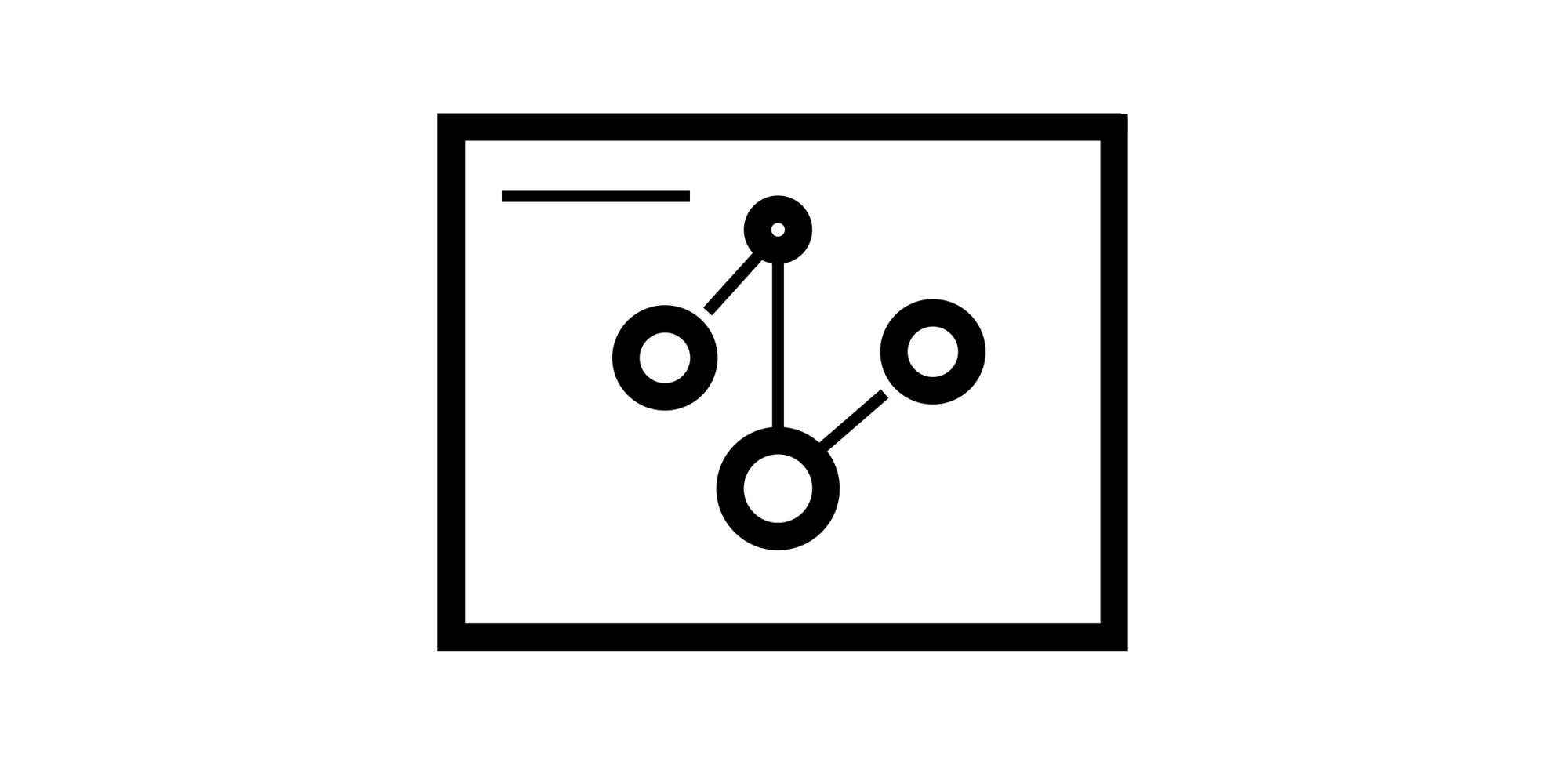 Happy Tuesday, fellow Logseqers!
This week's edition is chockfull of exciting new plugins. We've also distilled some of the most helpful content from tinkerers and creators in the Logseq community.
Because of Logseq's open data structure, many powerful tools can work with your notes. What seems to be very popular now is feeding Logseq data into different (AI-powered) visualization tools. This newsletter links to a few use cases and tools for finding patterns in your graph.
If you want to connect with the community, sign up for tomorrow's Office Hours and the Learning Sprint that starts next week. During Office Hours, there will be a short (15-minute) demo of the new official Readwise integration for Logseq.
For now, let's dig into the resources!
Office Hours
Join us live tomorrow, July 6th! Between 15:00 and 16:00 UTC, I'll be answering your questions and helping you get more out of Logseq. I'll also give a quick demo of Readwise's official plugin for Logseq, which launched earlier today.
Please remember that Office Hours are meant to help you solve your challenges. I'll be showing some potential solutions and collecting your feedback on how to make Logseq better, but everything is based on your inputs. So, please answer the questions as completely as possible when registering.
Click here to see what time it starts in your time zone, ask questions, and receive an email reminder when the session begins.
The session will be recorded and published on our YouTube channel.
New in version 0.7.6.
The new versions of Logseq desktop and mobile (Android) were released yesterday. The new Logseq iOS version is awaiting approval. To update, download the latest version from Logseq.com or check inside the app (... > Settings).
Version 0.7.6. fixes some critical data loss issues. These could occur when syncing with certain sync services (most notably iCloud and Dropbox). With this version, these issues should be all resolved. In case you do run into problems, please report them on GitHub.
Besides these fixes, Logseq is now fully available in Portuguese (Brazilian and European!) and Italian. You can now also import and export your graph in EDN and JSON file formats.
New plugins and themes
It's been a massive week for plugins, with many new useful features landing in our graphs. These are our favorites. Search for them in ... > Plugins > Marketplace within Logseq.
🚀 Official Readwise integration
It's official: the Readwise team has launched their plugin for Logseq! That means you'll be able to quickly funnel all of your highlights and notes from almost any reading platform! Compared to the unofficial integration that has been around for a while, the official integration lets you fine-tune your metadata and pick what items to export.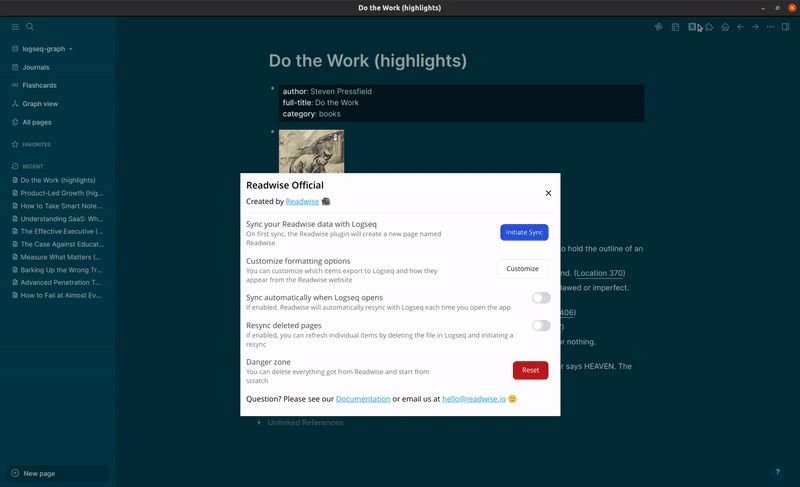 🔎 Logseq Graph Analysis
Searching your notes is getting easier each week because of Logseq's plugins. The newest addition is this graph analysis tool, which lets you "learn more about the relationships between your notes using network analysis algorithms."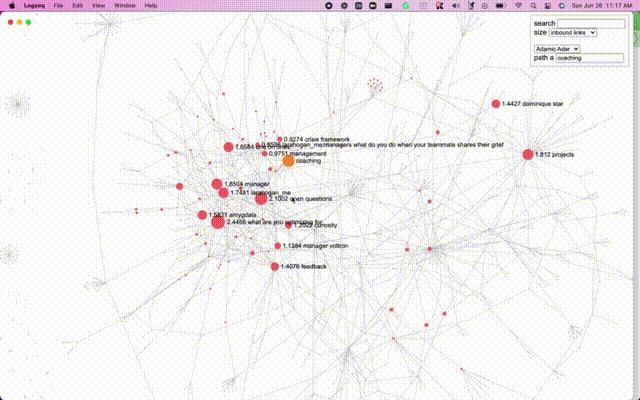 🖼 Logseq Banners
This plugin is a must-have if you've used Notion in the past and liked its page banners. With it, you can add any image as a top banner to any page: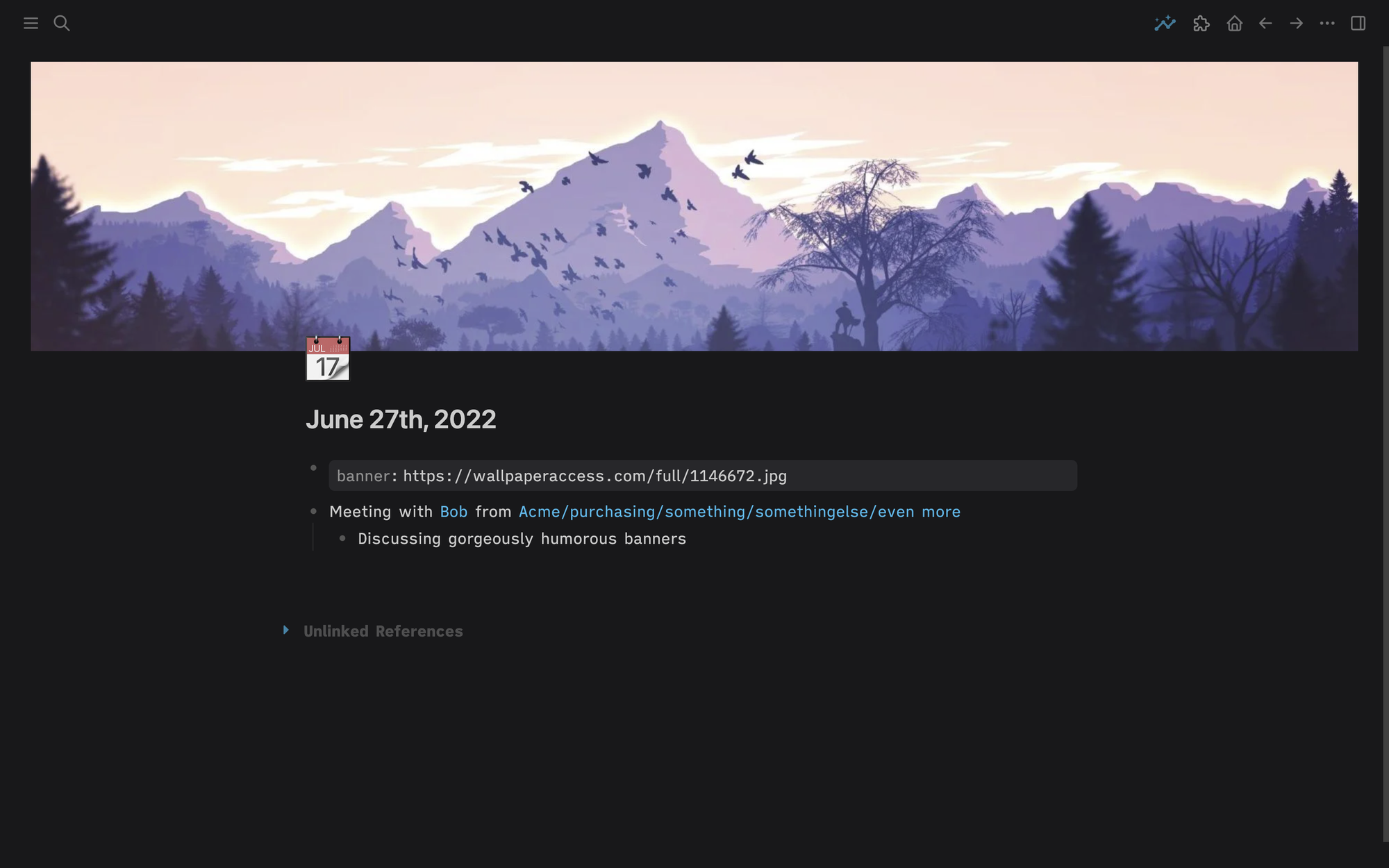 ⌨️ Google Fonts for Logseq
If you want to change the font of your Logseq theme but don't know any CSS, this plugin is for you. It lets you pick from any of the 1400+ Google Fonts and use it any way you like in your graph.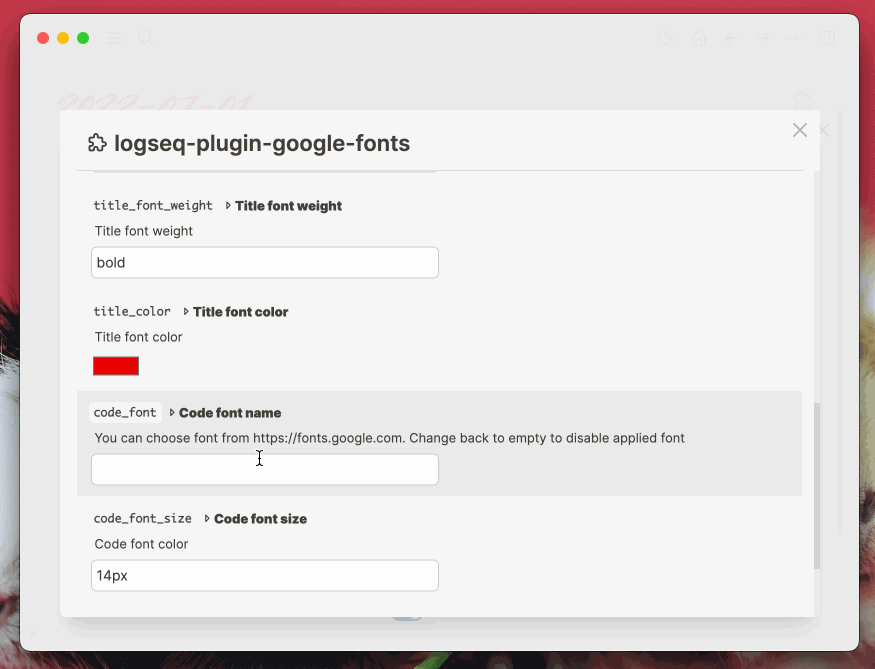 Learn from the community
The Logseq community hasn't sat still this week and created lots of valuable content. Here's a selection of our favorite resources.
Do you know of useful Logseq content or tools that work with it? Hit reply and share it with us!
🔗 How to Use Logseq's Zotero Integration
If you're an academic or ever need to keep track of your sources, you'll know Zotero. And did you know that Logseq has integration with Zotero built-in? In this complete tutorial, Jay Colbert teaches you everything you need to know to start with Zotero and use it within Logseq. Jay is very active in the (academic) Logseq community, so say hi to him if you found the tutorial helpful.
🇪🇸 Cómo integrar Zotero con Logseq
If you're a Spanish speaker and prefer a video tutorial on how to set up Zotero and Logseq, you can't miss this tutorial by Edenilson. It covers almost everything that Jay has covered in his written guide.
🔺 Use Namespaces to Create a Dynamic Note Index in Logseq
Many new Logseq users wonder where the folders are. But Logseq has something better: namespaces. They are your friend if you want to structure your graph more hierarchically. In this video, Josh Duffney shows what namespaces are and how he uses them to learn about a complex topic like programming.
🕸 Visualize and Analyze Your Logseq Graph of Knowledge, use GPT3 AI for New Ideas
We've already seen the power of GPT-3 in Logseq, but other AI tools also work with Logseq data. In this demo, Nodus Labs shows how to get your data out of Logseq and into InfraNodus for rich graph analysis and visualizations.
🤖 Overview of AI Techniques for Note-Taking and Logseq Task Management
If you want to learn more about AI-powered Logseq graphs, you should follow Brian Sunter. In this blog post, he gives a complete overview of what's currently possible with AI in Logseq. This page on note-taking with AI is especially worth checking out.
📤 How to Publish Your Logseq Notes Online In 30 Minutes
Once you have summarized and visualized your notes using AI, why not publish your findings? In this step-by-step guide, Brian Sunter shows you how to publish (part of) your Logseq graph online for free.
Learn everything about the learning sprints
Next week the first Learning Sprint will kick off! On Monday, everyone who registered will receive an email with all the information you need to get started with Logseq's queries.
Not only will you receive the link to the Learning Sprint public graph, but you'll also be able to register for the live events, and we'll open up a corner on the Logseq forum.
Read more about what we're learning in the blog post: Sprint With Us! Master Logseq Queries In 3 Weeks