Logseq 0.9.14: Better Sidebars and Smart Merge for Sync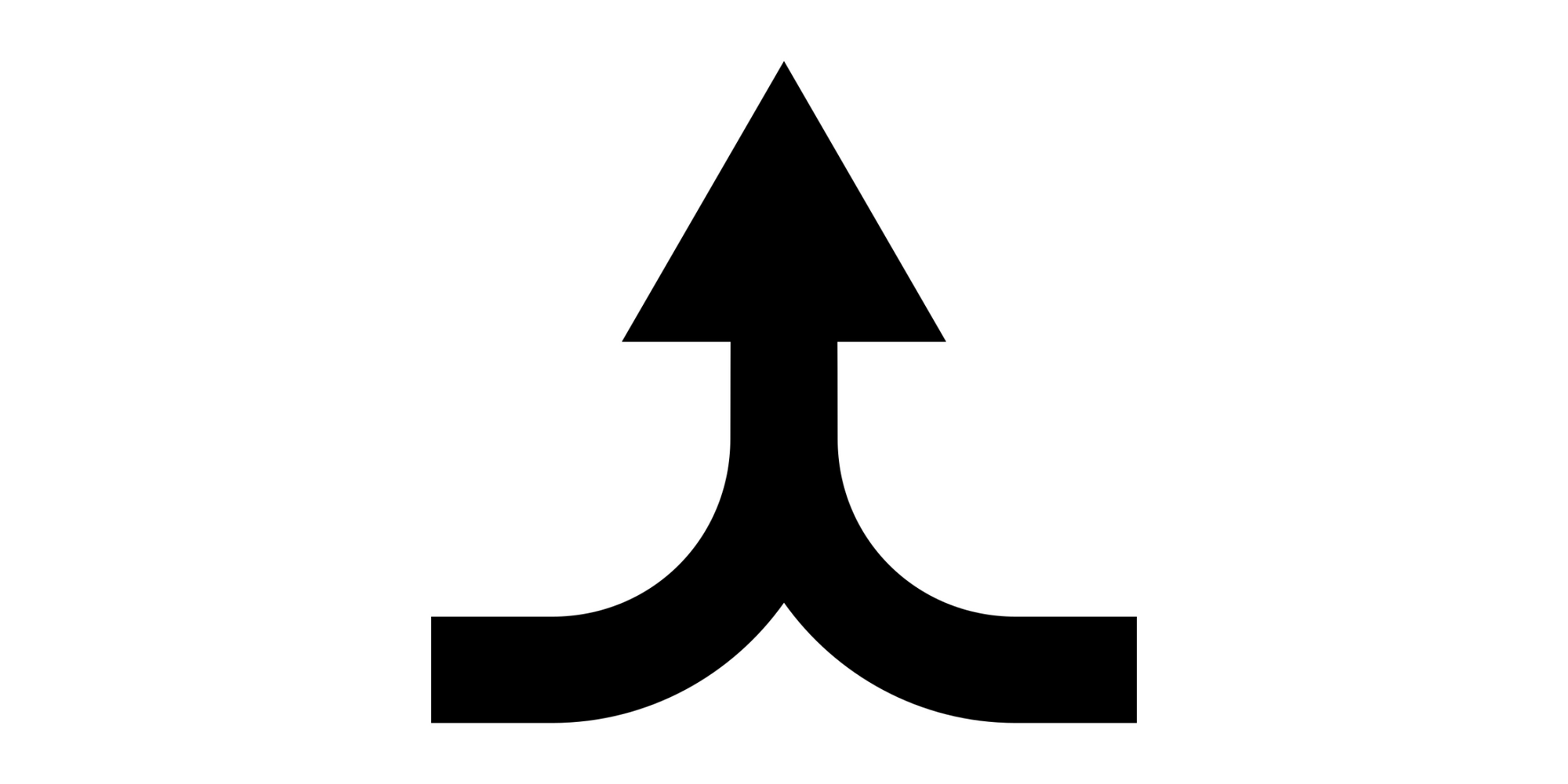 Hi Logseqers,
It's been a while since we wrote to you, but that doesn't mean we've sat still. We've been hard at work to improve Logseq's foundations, to prepare for some important changes that are coming this year.
Not only are we improving the performance of the app and sync functionality, but our designers and front-end developers are also working hard to make Logseq even more beautiful. Creating themes will be easier than ever—even if you don't want to write a single line of code.
If you want to stay updated on what we're cooking up, say hi in our Discord server and have a peek in the #design channel. Or keep an eye on your mailbox, as we'll send out more updates via this newsletter.
Here's what we've been up to, and what you can expect next:
The logo contest
Improved sidebars
Smart Merge for Sync
Next: in-app documentation
🧑‍🎨 Logseq Logo Contest
One thing our front-end team did this summer was to run a logo contest with the community. The aim was to gather input and inspiration for a logo the team will create as part of our visual refresh.
In May and June, we received dozens of submissions from designers in the community. After that, over 900 community members and a panel of judges voted for their favorites. The three top contenders all received a cash prize.
The competition showed the team how the community sees Logseq, its ecosystem, and its use cases. The next step will be for the team to create a logo inspired by the winning submissions and the feedback the community gave us over the course of the contest.
You can find all submissions in this forum thread. The winners can be found here.
👀 New Look for the Sidebars
In 0.9.14, you'll notice that the default theme has many small visual refinements. The most significant changes are in the left and right sidebar.
If you're using a custom theme or plugins that change Logseq's look and you experience issues, stay on 0.9.13 for the moment. Or switch to the default Logseq theme until your favorite custom theme or plugin has been updated.
Left Sidebar
The left sidebar now better blends in with the rest of Logseq, and should be more pleasant on the eyes due to alignment and color fixes.
To help you learn Logseq's keyboard shortcuts and work faster, we show the shortcuts in more places. When you hover over an option that also has a keyboard shortcut, you'll see its key combination: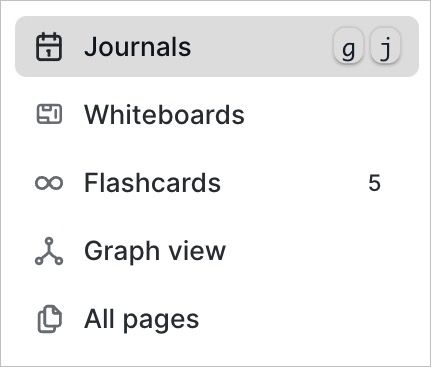 Right Sidebar
To help you manage the open branches and pages in the right sidebar, we've also improved the right sidebar. You can now easily collapse, expand, and reorder the items in the sidebar:
⛅️ Smart Merge for Sync
Logseq Sync is nearing the end of its beta phase! We've spoken to hundreds of users and heard your feedback loud and clear. While we're not done improving Logseq Sync, we've just rolled out our biggest update yet: Smart Merge.
Smart Merge is designed to handle simultaneous edits across devices. Here's what that means:
Block-level merging: Rather than handling changes at the page level, Smart Merge breaks things down to the block level, offering a more granular merging of changes.
Multi-device editing: If you edit a page on one device and make a separate change to the same page on another device, Smart Merge reconciles those changes when you sync. This reduces the likelihood of overwriting or losing any edits.
Offline & online support: Working offline? No problem. Smart Merge identifies changes made during offline periods and integrates them once you're back online.
And for the technical-minded of you who want to know what happens under the hood:
Smart Merge is built on a customized adaptation of Myer's diff algorithm and Google's diff-match-patch. This ensures efficient and accurate merging of content. Logseq's adaptation maintains the integrity of outline structures, addressing a known limitation with the common diff-merge-patch implementation.
While Smart Merge is powerful, it's designed for individual users editing on multiple devices, not for real-time collaboration between different users. Real-time collaboration will be added at a later stage.
❗
Smart Merge is still an experimental feature, so back up your graph before enabling it. We haven't had any reports of data loss with this feature, but it's always better to be safe just in case.
How to enable Smart Merge
To ensure a smooth transition to Smart Merge, please follow these steps carefully:
Step 1: Update Logseq
Please ensure you're using the latest version of Logseq on all your devices (0.9.14 or higher).
Note: The iOS app is being review by Apple and version 0.9.14 will arrive in the App Store this weekend.
Step 2: Sync all devices
Before proceeding, please synchronize all your devices with the remote server. This step ensures all edits and blocks are up-to-date across all platforms.
After, please make a local backup! Copying your graph folder elsewhere on your filesystem is enough.
Step 3: Enable Smart Merge on each device
You'll need to enable Smart Merge individually on each device you use with Logseq. To do so, do this on every device:
First, navigate to settings in Logseq (... in the top right, then Settings).
Next, Navigate to the Features tab in settings, and enable Smart Merge using the toggle (the circle on the right means it's enabled):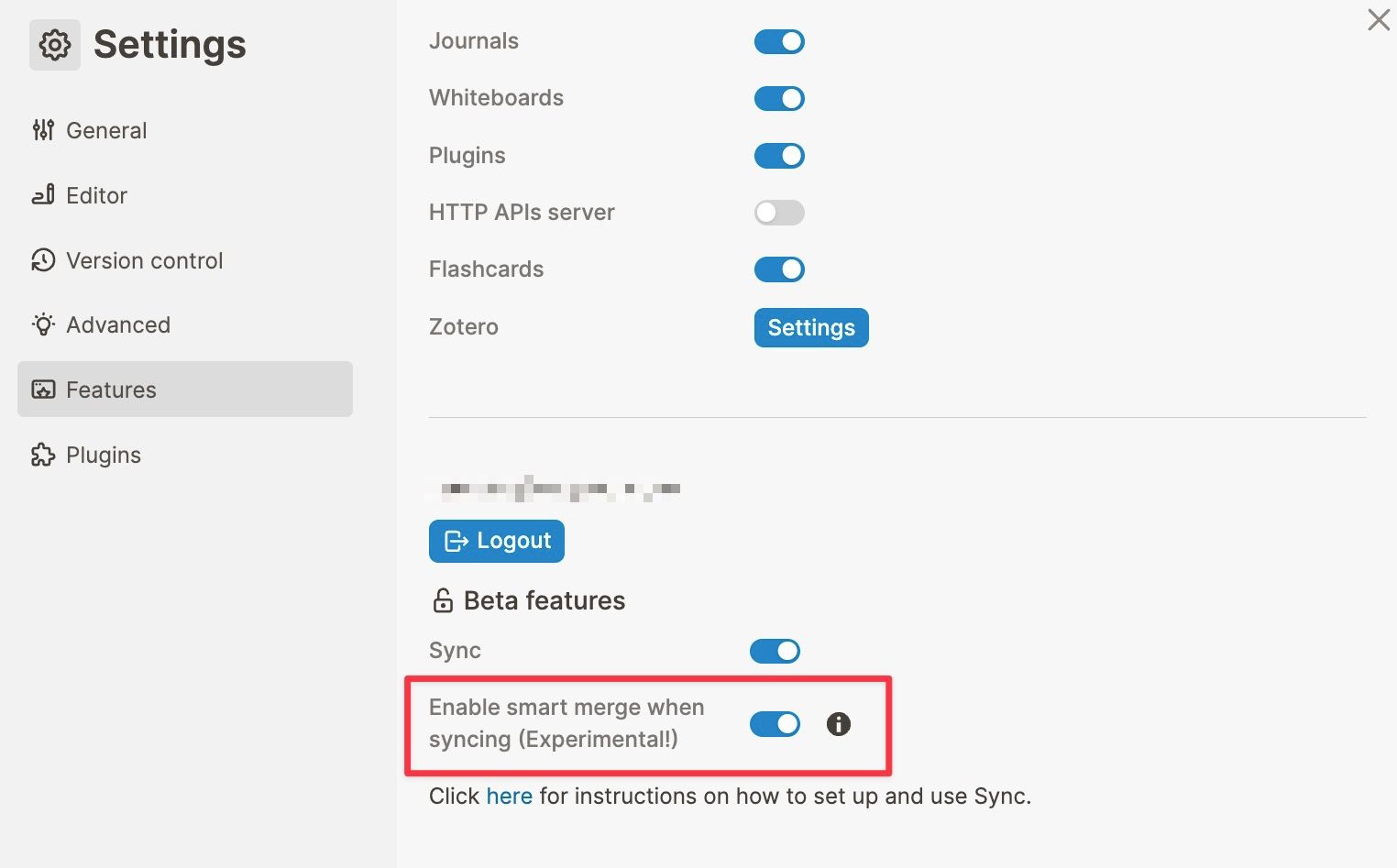 Step 4: Re-Index on each device
It's crucial to re-index on all devices to ensure Smart Merge works correctly and maintains the integrity of your data.
To re-index, select the Re-index current graph option from the command palette (Ctrl + Shift + p on Windows/Linux, Cmd + Shift + p on macOS). Alternatively, click your graph name in the left sidebar and then the Re-index option: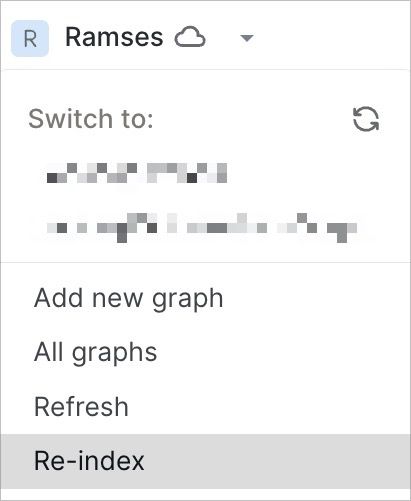 Step 5: Ensure the first successful sync
Before making any edits in your graph, open Logseq on one device and ensure it's fully synchronized (the status indicator remains green for more than 30 seconds). This ensures the so-called "base version" of your graph has been set on the remote server.
Now, make a single edit on that device and let it sync to the remote server (creating in a new block on today's journals page is enough). After that, ensure that the change is pulled in by your other devices that use Logseq Sync. If the block appears, you've successfully set up Smart Merge!
Now that all your devices have Smart Merge enabled, were re-indexed, and are fully synchronized, you can do some more testing to be absolutely sure everything works (it's an experimental feature after all).
Try to create new blocks on the journals page on two devices at the same time. If everything works as expected, both blocks will get synchronized and none gets overwritten by the other.
If you run into issues, please email Logseq support.
📗 Coming next: Logseq Handbook
To better help newcomers and power users, we're working on in-app documentation called the Handbook. This knowledge base will have content that's easy to find and understand and is aimed at non-technical users.
Starting small, we'll have onboarding materials for new users. Also, our Sync documentation will be in the Handbook.
While docs.logseq.com will stay around, it takes work to navigate and is not an obvious place for new users to look. Hopefully, with the Handbook right within Logseq, more people will learn to benefit from Logseq's powerful features.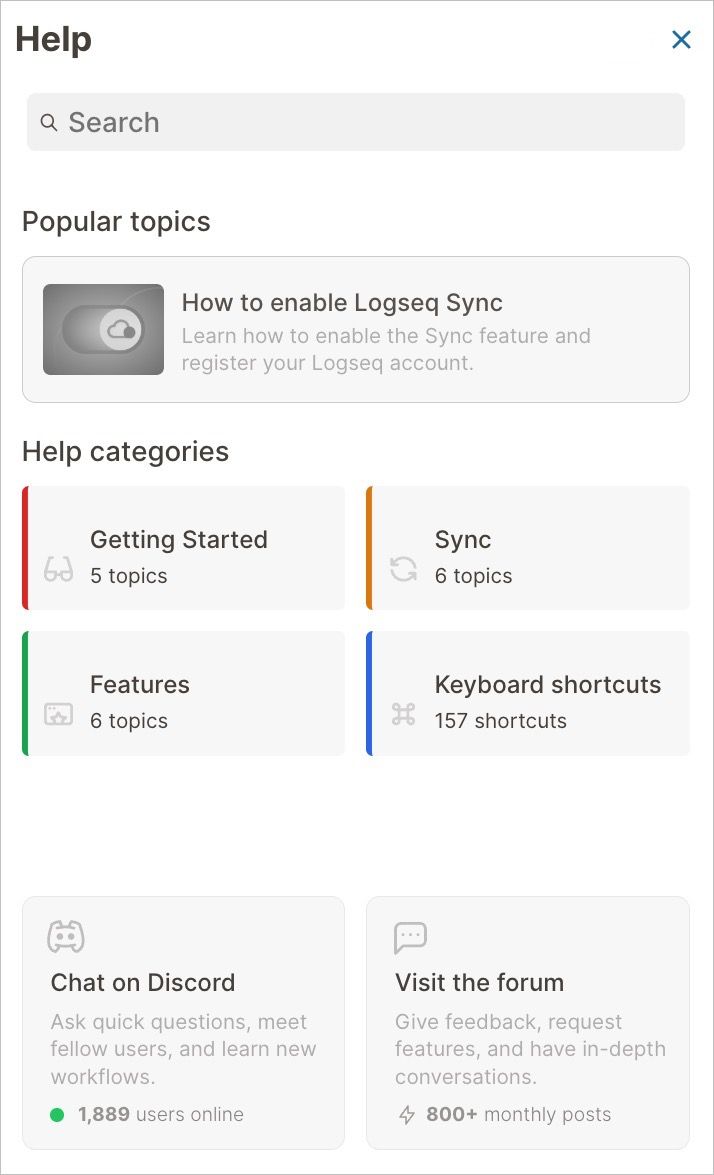 🗣️ Let us hear your thoughts
If you have suggestions for content, please hit the reply button and lets us know what you'd like to see. Also, if you're a new Logseq user and had trouble figuring out how to use the app, we'd love to hear from you.
Want to know what else we're building, and learn fellow Logseqers at the same time? Say hi in our Discord server! Prefer slower-paced conversations? Join the team and community on the official Logseq forum.